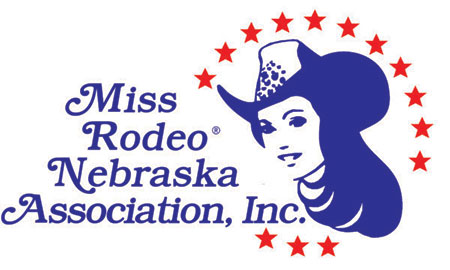 Miss Rodeo Nebraska 2019 – Eva Oliver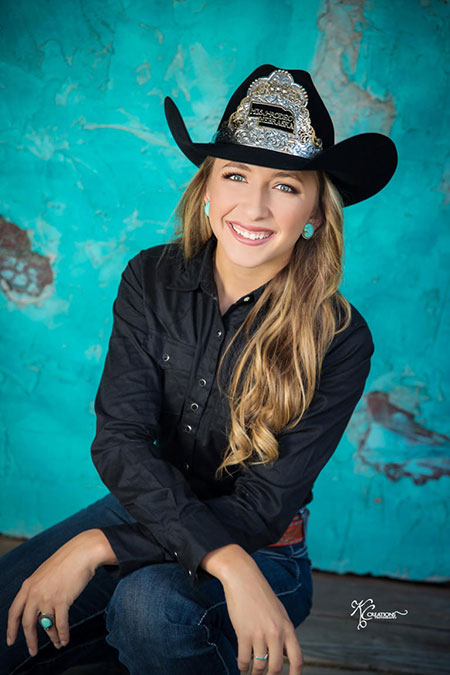 Eva Oliver is Miss Rodeo Nebraska 2019. She calls Merriman home, where she lives with her parents Chuck and Stacie Oliver.
When Eva was announced as the new Miss Rodeo Nebraska, she was overcome with emotion, but felt blessed to have accomplished her life-long dream. Along with the title of Miss Rodeo Nebraska, she captured the horsemanship, personality and photogenic categories. Eva is looking forward to "representing the best state in the U.S. and her favorite sport of all time – rodeo."
Eva graduated from Cody-Kilgore High School in 2016. She then continued her education at the Nebraska College of Technical Agriculture in Curtis. While in college, Eva was a part of the ranch horse team, Women in Agriculture, Collegiate Cattlemen, intramural sports, STVMA and Phi Theta Kappa.
Eva graduated from NCTA with an associate's degree in veterinary technology in May of 2018. After Miss Rodeo Nebraska, she plans to continue her education and obtain a bachelor's degree in sales, and eventually, become a sales representative for an animal pharmaceutical company.
Eva is currently a part time employee for Shadbolt Cattle Company, where she helps as a ranch hand. From digging post holes to wrestling calves, Eva loves every aspect of ranch life. When she is not working on the ranch or working as Miss Rodeo Nebraska, she enjoys starting colts, reading, fishing and competitively playing pitch with friends and family.
"Growing up on a ranch gave me a firsthand look at how rodeo began, how it has evolved over the years and why it is so important to preserve," Eva said. "I want to not only educate students about my passion for rodeo, but also to encourage them to be the best version of themselves – to stand up for what they believe in and stand out from the crowd, to be bold." (Image by KC Creations Photography, Burwell, NE)
---
Miss Teen Rodeo Nebraska 2019
Brylee Thompson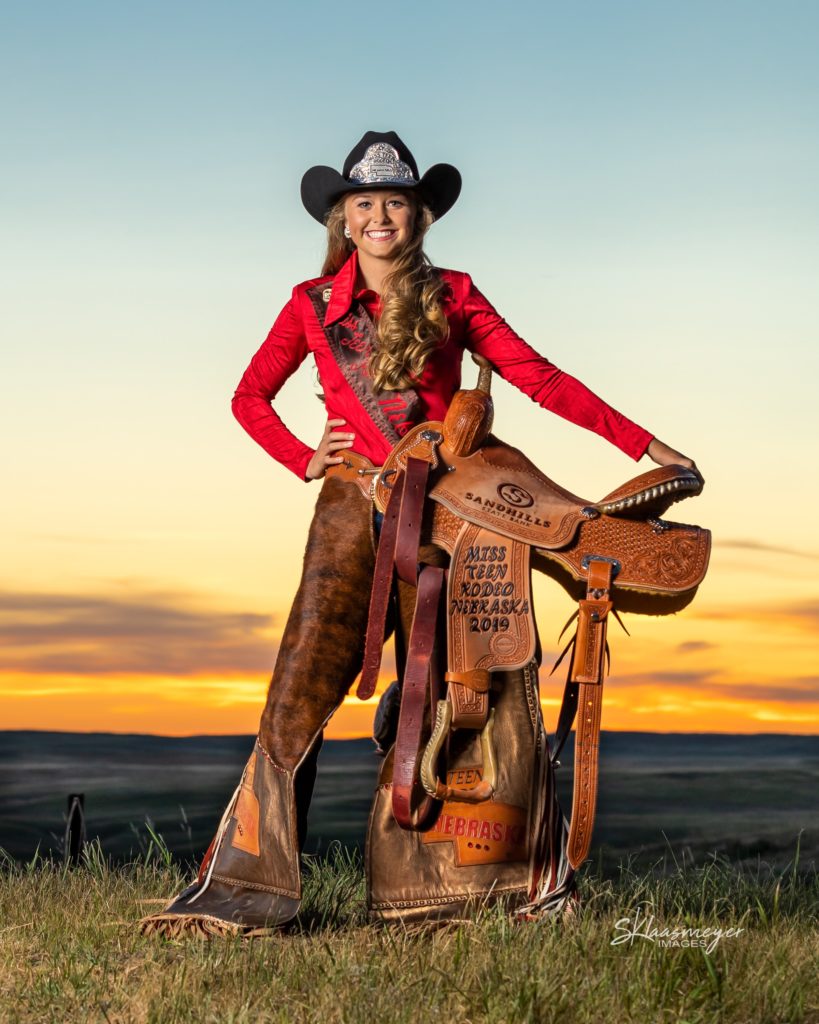 Brylee Thompson, of Hershey, is Miss Teen Rodeo Nebraska 2019.
Thompson, 15, was crowned in North Platte in June after winning the horsemanship, appearance, personality, congeniality and photogenic categories of the MTRN Pageant.
A student at Hershey High School, Thompson participates in basketball, one-act plays, quiz bowl and volleyball and is a member of the student council. Her activities outside of school include: 4-H Council, horse 4-H, Lonestar Cowboy Church youth group and rodeo Bible camp participant and counselor.
After graduation, Thompson plans to attend Colby Community College and eventually become a registered nurse. Her goal is to work in a large hospital setting – specifically an emergency room. While at Colby, Thompson also plans to compete as part of the college's equestrian team.
Thompson's life goal is to always spread kindness and lift others up. She wants to be a person who focuses on the positive in every aspect of her life and to be known as someone who is compassionate and kind to everyone. Her parents are Lucas Anderson and Hanna McConnell. (Photo courtesy of Suzanna Klaasmeyer Photography)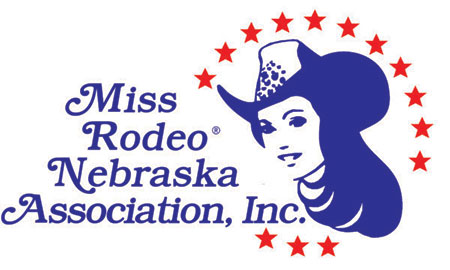 Mission Statement:
To provide an opportunity for young women of high moral and ethical
character to promote Nebraska and the sport of rodeo.
The concept of Miss Rodeo America was developed in 1955 by a group of gentlemen under the name of International Rodeo Management (IRM).
The same year, the town of Burwell, Neb. selected its first Miss Rodeo Nebraska: Dallas Hunt George of Lincoln, who held the MRN title in 1955 and 1956.
She won the regional title in Omaha at the AK-SAR-BEN Rodeo in 1956 and went on to compete and win the Miss Rodeo America title in 1957.
Laura (Lolly) Cameron Klug won the MRN title in 1957. She also won the Regional title at AR-SAR-BEN and competed at the Miss Rodeo America Pageant. In 1959, she was named as the Buffalo Bill Rodeo Queen and given the title of Miss Rodeo Northwest. She then competed again at the Miss Rodeo America Pageant, where she was second runner-up.
The MRN Pageant has continued every year since its humble beginnings. The goal of it is to select a young lady with the desire and enthusiasm to serve as a goodwill ambassador for the sport of rodeo and the state of Nebraska.
In 1991, after Burwell had hosted the pageant for 36 years, the pageant was moved to North Platte so it could be presented in conjunction with Nebraska's official state celebration, NEBRASKAland DAYS and the PRCA Buffalo Bill Rodeo.
Also in 1991, NEBRASKAland DAYS started a tradition of presenting a $1,000 scholarship to newly crowned MRNs. The MRNA Scholarship Program has continued to grow and now awards more than $5,000 in scholarship money.
In 2000, the pageant schedule was changed from three days to four days. In 2006 the Miss Rodeo Nebraska Association, Inc. expanded its program to include the Miss Teen Rodeo Nebraska Pageant.
The Sponsors of Miss Rodeo Nebraska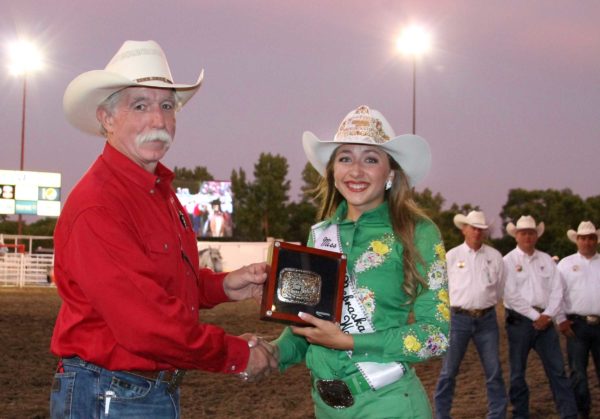 We are so grateful to the many gracious sponsors who make the Miss Rodeo Nebraska program possible. We couldn't do it without you! For more information about sponsorships, or to learn how to become a sponsor, contact Lacey Williams at laceyjane20@gmail.com, or Peggy Moorhead at moorhead@hersheytel.net.
Pageant Partners
NEBRASKAland Days
Buffalo Bill Rodeo
Mid-Plains Community College
Miss Rodeo Nebraska Association
Saddle Sponsors
Agri Affiliates
Sandhills State Bank
Platinum
Mid-Plains Community College
KC Creations Photography
La Quinta Inn & Suites/North Platte
Platte Valley Auto Mart
Diamond
NebraskaLand Days, Inc.
Buffalo Bill Rodeo Committee
Miss Rodeo Nebraska Association
Hyannis Veterinary Service
Mentzer Oil
Town and Country Western Wear
Fat Dog's
Orr's Dry Cleaning
Jody's Auto Sales
Security First Bank
Go Light
Twin River Band
Marshall Custom Hats
American Family Insurance
Joseph Angus Ranch
Niobrara Valley Vineyards
Zoetis
Haythorn Land and Cattle
Western Sire Services
Winner Circle Feedyard
Shadbolt Cattle Co.
Shadbolt Horse Training
Oliver Cattle Co.
Dry Creek Western Wear
Young's Western Wear
Abbott Cattle Company
Toxic Graphics
Miller Angus
Nebraskland National Bank
Welker and Fevold
North Platte Telegraph
North Platte/Lincoln County Visitors Bureau
Gold
Silver
Gordon Livestock Market
Forster Well Drilling
Ted and Lolly Klug
Bronze
Sibbitt Cattle Company
Otte Feeds
Pit Stall
Sandage Feed
Wreck-A-Mended Body Works
Open Range Beef
Price's Gallery and Framing
Cow Country Sales & Service
Karen Troyer
Poor Farm
Copper
Steele's Roofing and Construction
Valentine Dental Clinic
L & B Johnson, P.C.
D & R Repair
Steve and Julie Ravenscroft
Mane Attraction
Essence
Modern Cleaners
Sheridan Livestock Auction Company
Hurry! The deadline to enter the Miss Rodeo Nebraska/Miss Teen Rodeo Nebraska Pageant is April 1!
Miss Rodeo Nebraska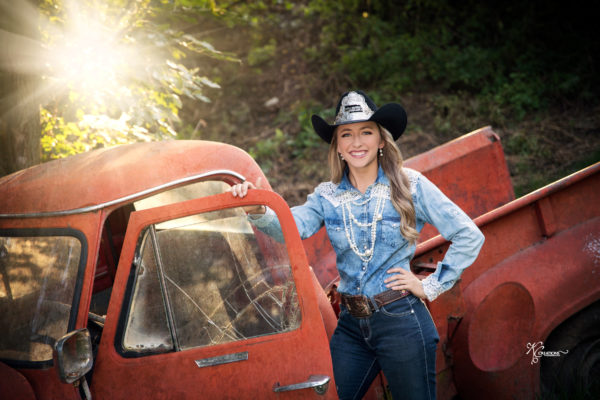 (Photo Courtesy of KC Creations Photography)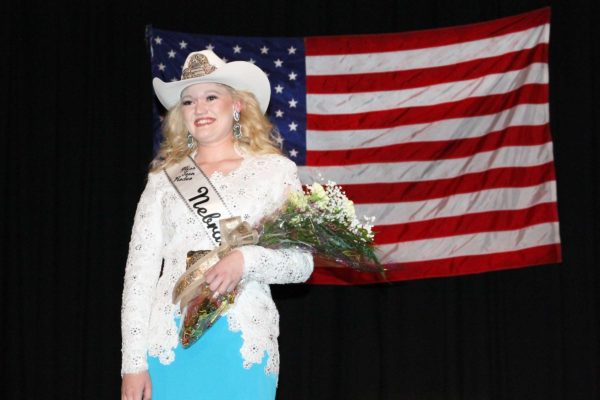 Visiting Royalty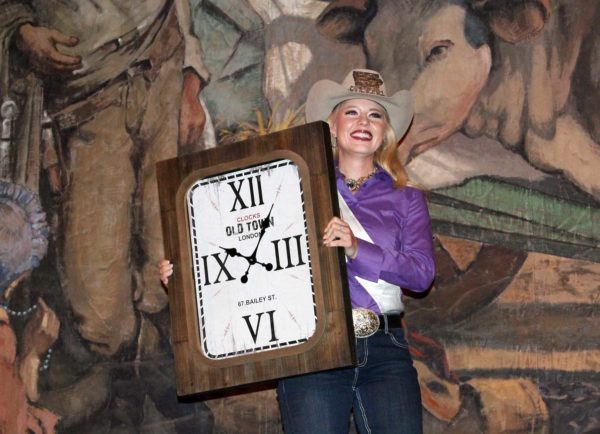 The Royalty Scrapbook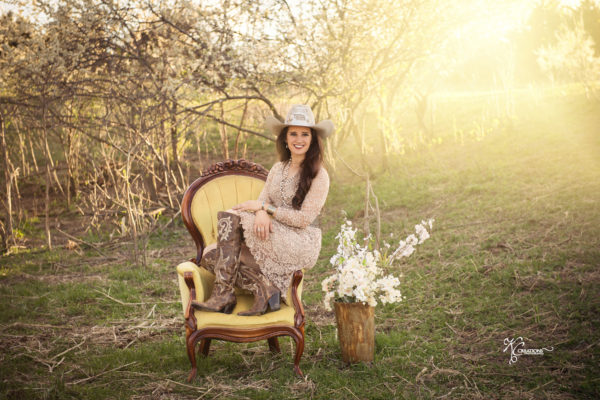 (Photo courtesy of KC Creations Photography)
Their reigns may be over, but our former Miss Rodeo Nebraskas and Miss Teen Rodeo Nebraskas will never be forgotten. Click on the links below to see photos of previous leading ladies.