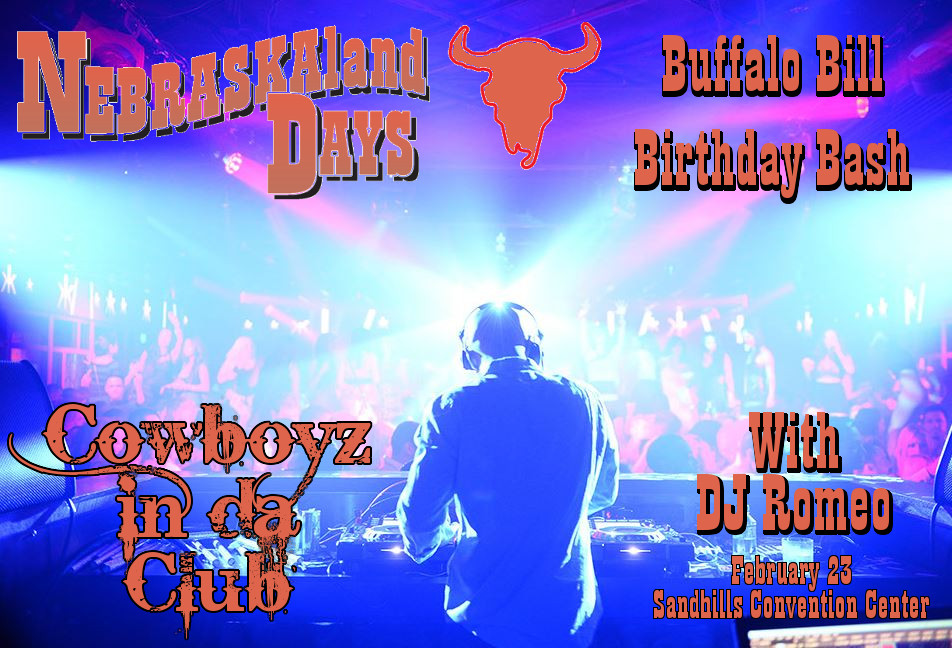 Buffalo Bill Birthday Bash
February 23 @ 6:00 pm

-

February 24 @ 1:00 am

|

$50.00
Annually one of the best parties of the year, the Buffalo Bill Birthday Bash is back…..with a twist for 2019!
Cowboz in da Club features DJ Romeo, a veteran mix DJ from Lincoln who performs all over the United States! DJ Romeo will roll early favorites from all genere's, then mix it up as the night goes along!
We start with a reception and live auction beginning at 6 PM, doors to the Ballroom open at 8, and our infamous Hospitality Booths open at 9 along with the hits from DJ Romeo.
Live Auction Items
Breckenridge Condo – Donated by Jim and Malinda Paloucek and Joe and Wendy Staroska
2018 Artist Guitar – Signed by Alabama, Charlie Daniels, and Florida Georgia Line
Estes Park Condo – Donated by Larry and Paula Stobbs
Lazy RW Limited Edition Whiskey – Donated by Lazy RW Distillery 
6.5 Creedmoor –  Donated by the NLD Sophomore Class
Bayside Stay and Play – Donated by Bayside Golf Course
Browning A5 Wicked Wing – Underwritten by NebraskaLand National Bank, Maple Park Dental, and Moore and Hawks CPA
NFR Package – Donated by the El Cortez Hotel and Casino and NLD Seniors
Husker Volleyball – Farmers Mutual of Nebraska and Rosenberg Insurance
Antique Wagon – BG Stables
4 tickets to Ohio State @ Nebraska on 9/28 – Donated By Pepsi
Dinner for 8 in the Canteen Wine Room – Donated by the Canteen Bar and Grill